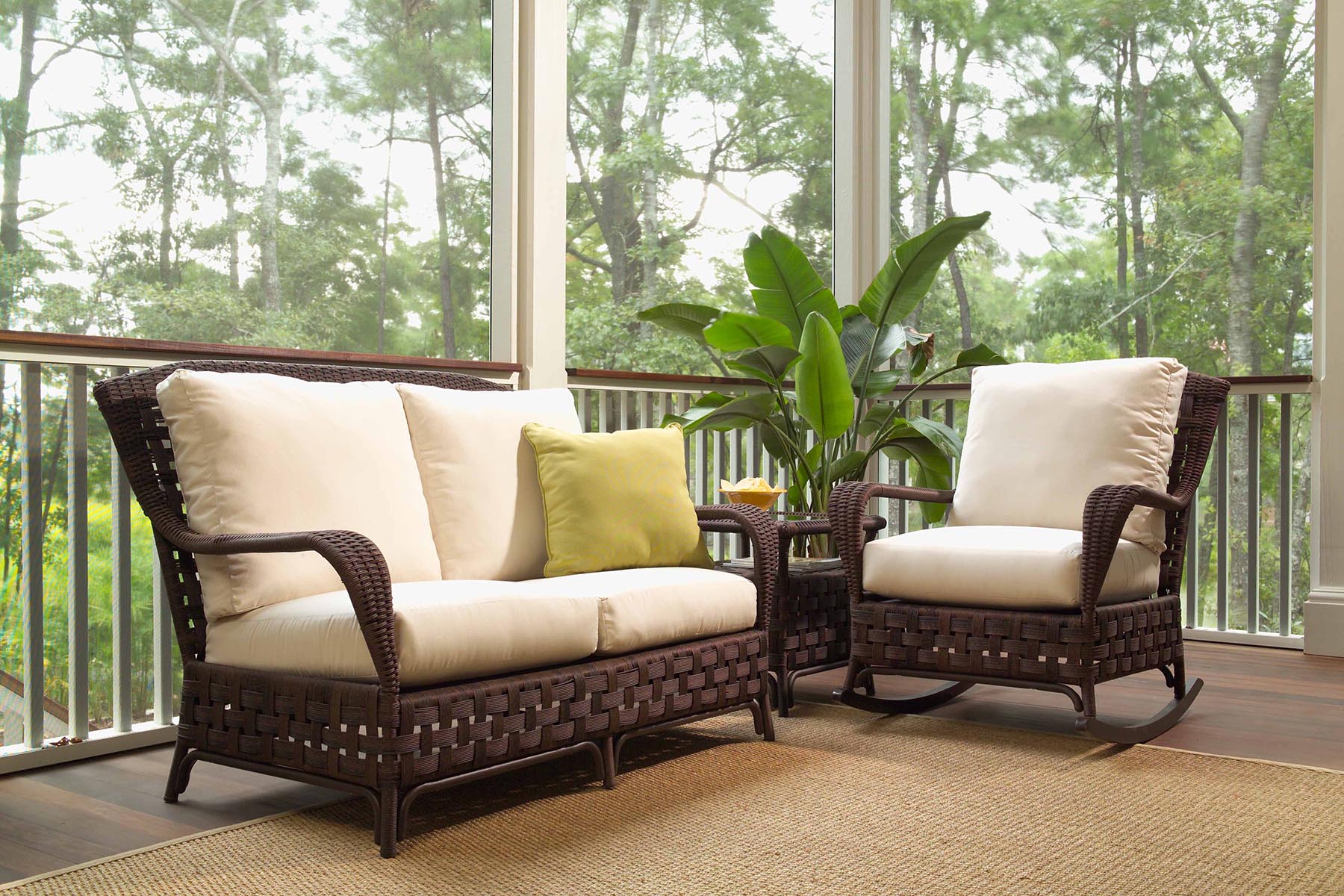 Indoor or Outdoor Chair Cushions
Before you place your order for indoor or outdoor chair cushions (or chaise lounge, outdoor bench, or patio furniture cushions) with Cushions by Wicker Imports, let's make sure your questions are answered and that you're aware of our policies.
Frequently Asked Questions
We wanted to answer some common questions here to make ordering indoor or outdoor chair cushions easier for you. Of course, if you still have questions after reviewing these FAQs, feel free to contact us.
Delivery—What to Expect
Shipping is FREE on All Orders
We want to tell you what to expect after you place your cushion set order.
Ordering and Cancellation Policy
You will receive a receipt after your order is placed. Please check it carefully for accuracy and report any changes within 24 hours. Any orders changed or canceled after the order is put into production (after the fabric is cut) are subject to a 25% restocking fee.
Cushions usually ship in two to four weeks. Shipping can take six weeks during our peak season (April through July). Please order early to avoid the rush.
You can get your cushion order faster by selecting the express production option. This will cut production time in half. We rarely experience a back order, but if we do, we'll notify you, and you can choose to wait, select a different product, or get a refund.
If you have any questions about the availability of a specific fabric, please contact us.
We accept Visa, Mastercard, American Express, and Discover. You can safely enter your credit card information via our secure server, which encrypts all data. If you prefer to pay by check, please make it payable to Cushions by Wicker Imports and mail it to 1780 Clay Rd. Ephrata, PA 17522.
Items shipped to PA residents are subject to sales tax. Orders to other states are tax-free.
The Delivery of Your Cushions
We carefully inspect every item before shipping. When your order is received, please thoroughly inspect it to be sure you have the correct products and that they were not damaged in transit. If any damage is concealed, contact us within five days of receipt, and we will address the issue.
In the case of damage, we will pay for return shipping and send a replacement at no charge. If you received the wrong product, please get in touch with us immediately, and we'll cover return shipping costs and send out the correct cushion(s).
We cannot ship to PO Boxes. Cushions will be shipped via UPS.
Store Policies
At Cushions by Wicker Imports, we share our policies so you can stay informed. Questions? Always feel free to contact us.
Online Ordering
Ordering online with us is safe and secure! We employ a method of interaction with our visitors that does not compromise credit card information. This online system is 100% secure.
If you wish, you may also send us a personal check. Personal checks may delay your order as we must wait for your funds to clear before we ship any merchandise. To order by check, print the order form with your shopping cart contents from the order confirmation page and complete the necessary fields, then mail the form and check to the address above. Please make checks payable to Cushions by Wicker Imports.
Return/Refund Policy
Our cushions are made to order, and most products offer custom options. Therefore, any order changed or canceled after it's been put into production is subject to a 25% restocking fee.
If you are unsatisfied with any product you ordered, please get in touch with us, and we will try to rectify the situation. Since all replacement cushions are custom-made, we cannot accept any returns after they have shipped. Please double-check all measurements on replacement cushions to ensure you have chosen the correct cushion—and if there's doubt, please get in touch with us.
Fabric Disclaimer
We have worked hard to supply images of fabrics that are as similar as possible to the actual fabric. There are, however, variations in lighting, screen quality, and dye lot variations. We are unable to guarantee exact representation. You should order a FREE fabric sample if precise color matching is essential.
Pricing
Goods are charged at the prices shown on the product pages on the customer's order date. Prices are correct at the time of publication. Errors and omissions are excepted.
Orders will be processed at our published prices; otherwise, in the case of any unexpected price change, you will be informed and asked if you wish to reconsider your order before proceeding.
Complaints
If we should receive a complaint about any part of our service by phone, e-mail, or letter, it will be addressed promptly, confidentially, and effectively. We will reply within five business days.
Terms of Use
As part of our service, we agree to provide you with information and other services that we may decide to offer, subject to the terms of this agreement. Upon notice published through the service, we may modify this agreement at any time. You agree and continue to agree to use our services in a manner consistent with all applicable laws and regulations and in accordance with the terms and conditions set out in the policies and guidelines outlined below. Please note that you will be referred to as 'customer' in this agreement.
Limitation Of Liability And Warranty
CUSTOMER AGREES THAT USE OF THE SERVICE IS ENTIRELY AT CUSTOMER'S OWN RISK. SERVICES ARE PROVIDED 'AS IS,' WITHOUT WARRANTY OF ANY KIND, EITHER EXPRESS OR IMPLIED, INCLUDING WITHOUT LIMITATION ANY WARRANTY FOR INFORMATION, SERVICES, UNINTERRUPTED ACCESS, OR PRODUCTS PROVIDED THROUGH OR IN CONNECTION WITH THE SERVICE, INCLUDING WITHOUT LIMITATION THE SOFTWARE LICENSED TO THE CUSTOMER AND THE RESULTS OBTAINED THROUGH THE SERVICE. SPECIFICALLY, WE DISCLAIM ANY AND ALL WARRANTIES, INCLUDING WITHOUT LIMITATION: 1) ANY WARRANTIES CONCERNING THE AVAILABILITY, ACCURACY, OR CONTENT OF INFORMATION, PRODUCTS, OR SERVICES; AND 2) ANY WARRANTIES OF TITLE OR WARRANTIES OF MERCHANTABILITY OR FITNESS FOR A PARTICULAR PURPOSE.
THIS DISCLAIMER OF LIABILITY APPLIES TO ANY DAMAGES OR INJURY CAUSED BY ANY FAILURE OF PERFORMANCE, ERROR, OMISSION, INTERRUPTION, DELETION, DEFECT, DELAY IN OPERATION OR TRANSMISSION, COMPUTER VIRUS, COMMUNICATION LINE FAILURE, THEFT OR DESTRUCTION OR UNAUTHORIZED ACCESS TO, ALTERATION OF, OR USE OF RECORD, WHETHER FOR BREACH OF CONTRACT, TORTIOUS BEHAVIOR, NEGLIGENCE, OR UNDER ANY OTHER CAUSE OF ACTION. CUSTOMER SPECIFICALLY ACKNOWLEDGES THE SERVICE IS NOT LIABLE FOR THE DEFAMATORY, OFFENSIVE, OR ILLEGAL CONDUCT OF OTHER CUSTOMERS OR THIRD PARTIES AND THAT THE RISK OF INJURY FROM THE FOREGOING RESTS ENTIRELY WITH THE CUSTOMER.
NEITHER THE SERVICE NOR ANY OF ITS AGENTS, AFFILIATES, OR CONTENT PROVIDERS SHALL BE LIABLE FOR ANY DIRECT, INDIRECT, INCIDENTAL, SPECIAL, OR CONSEQUENTIAL DAMAGES ARISING OUT OF USE OF THE SERVICE OR INABILITY TO GAIN ACCESS TO OR USE THE SERVICE OR OUT OF ANY BREACH OF ANY WARRANTY. CUSTOMER HEREBY ACKNOWLEDGES THAT THE PROVISIONS OF THIS SECTION SHALL APPLY TO ALL CONTENT ON THE SERVICE.
Rules For Online Conduct
By using the service, you agree that you will not attempt to undermine the integrity of this website.
Trademarks
All trademarks appearing on the service are trademarks of their respective owners.
Privacy Information
We have created this privacy statement in order to demonstrate our firm commitment to privacy. The following discloses our information-gathering and dissemination practices for this website.
Information Used
We use your IP address to help diagnose problems with our server and to administer our website. Your IP address is used to help identify you and to gather broad demographic information.
Our site uses cookies to keep track of your shopping cart. We use cookies to identify you so we can retrieve your information, so you don't have to re-enter it each time you visit our site.
Our site's registration form requires users to give us contact information like their name, e-mail address, and unique identifiers. We use customer contact information from the registration form to send the user information about our company. The customer's contact information is also used to contact the visitor when necessary if they have subscribed to the mailing list. Users may opt-out of receiving future mailings by choosing to unsubscribe. Unique identifiers are collected to verify the user's identity and for use in our record system.
Our site uses an order form for customers to request information, products, and services. We collect visitors' contact information and unique identifiers. Contact information from the order form is used to send orders and information about our company to our customers. The customer's contact information is also used to get in touch with the visitor when necessary. Users may opt-out of receiving future mailings. Unique identifiers are collected from Web site visitors to verify the user's identity and for use as account numbers in our record system.
Security
This site has security measures in place to protect against the loss, misuse, and alteration of the information under our control. All data is protected using the most advanced methods available. On this site, we do not store financial information like credit card numbers or personal information like social security numbers.
Unsubscribe
This site allows users to remove their information from our database when they do not wish to receive future communications or mail list messages.
Other Sites
This site may contain links to other sites. We are not responsible for such websites' privacy practices or content.