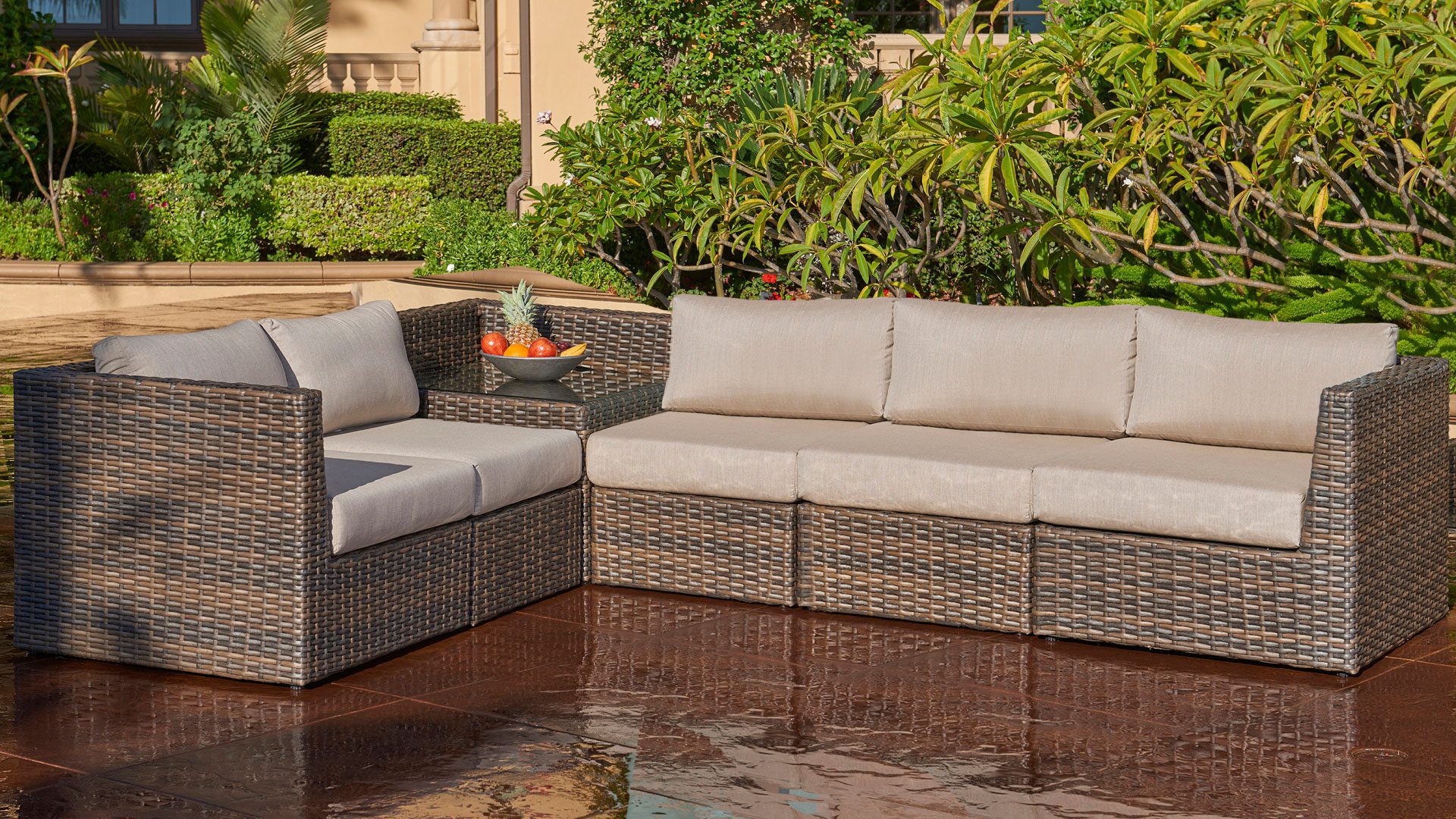 1-2 Day Shipping For Fabric Swatches
One of the best parts of ordering replacement cushions for outdoor furniture is choosing your outdoor cushion fabric. The same applies when shopping for cushions and pillows for your indoor wicker or rattan furniture. We make home decorating fun with high-performance textiles in beautiful patterns and colors—including in-demand Sunbrella fabrics.
Outdoor Furniture
Sunbrella is a Leader in High-Performance Outdoor Upholstery and Furniture Fabric
When you order your cushions and pillows from Cushions by Wicker Imports, you can choose a Sunbrella fabric for your outdoor cushions and throw pillows.
You will enjoy a range of benefits when you select an award-winning, easy-to-clean Sunbrella outdoor fabric as part of your cushion order:
Weather Resistance
Mold & Mildew Resistance
Remarkable Comfort
Unrivaled Durability
Fade Resistance
UV Resistance
Ease of Cleaning
Abrasion Resistance
Stain Resistance
Five-Year Limited Warranty
The top-quality fibers in Sunbrella fabrics are dyed through and through with UV-stabilized pigments, meaning the color and the fabric will last.
Are you ready to experience the long-lasting beauty of Sunbrella outdoor fabrics for your cushions? Start your order now.
Your Outdoor Cushion Fabric
You've determined the brand name of your furniture, or you know what cushion type you'll need. Perhaps you've measured for custom cushions. Now it's time to decide on your outdoor cushion fabric. This is the best part!
Will you select a muted, solid color that grounds your space and leaves plenty of room for decorative interpretation? Will you make your outdoor cushion fabric the focal point of that space? Or will your replacement cushions for outdoor furniture enhance and support a design that's already in place?
You have a vision, and we want to ensure you have enough high-quality options to make that vision a reality. Browse our fabric selection and contact us if you need assistance.
What Our Customers are Saying About Our Outdoor Cushion Fabrics
We understand if you're unsure about ordering replacement cushions for outdoor furniture online. Other companies supply cushions that are flat (or go flat) and don't hold up to sun and weather.
We strive to meet (or exceed) your expectations with a wide selection of fabrics designed for both indoor and outdoor furniture. To be sure you're getting exactly what you want, you can order up to six FREE fabric samples. Plus, you can see what our happy customers have to say:
We really needed replacement cushions for our wicker set. The original store where we purchased it had gone out of business and no other similar store had even heard of our brand and style of furniture! I found Cushions by Wicker Imports online and they made cushions for our wicker set as well as many other brands. It was a big purchase to make soley online but I spoke with Wendy and emailed her questions and she was very responsive. They have a very large selection of fabrics and will happily send you swatches. My order arrived in the expected amount of time. We couldn't be happier. They look great, are very well made and fit perfectly!

A C


July 9, 2022

We received the Lloyd Flanders cushions for our couch, love seat and swivel chairs. We are extremely happy with the quality and comfort of your product. When buying online one never knows what you will receive or if you will receive it. I wanted to post some pictures but could not find away. Thanks again.

Gary Wenger


August 9, 2022

Our cushions arrived this afternoon and we are so pleased with the way they turned out and how nice it makes our set look. Instead of looking worn out and seams busted our cushions now are nice and firm making our set look brand new. Thank you Wendy for all your help in sending samples and answering my questions. From Tennessee to Pennsylvania we send a heartfelt thank you. Harriet and Wayne

Harriet Smith


June 9, 2022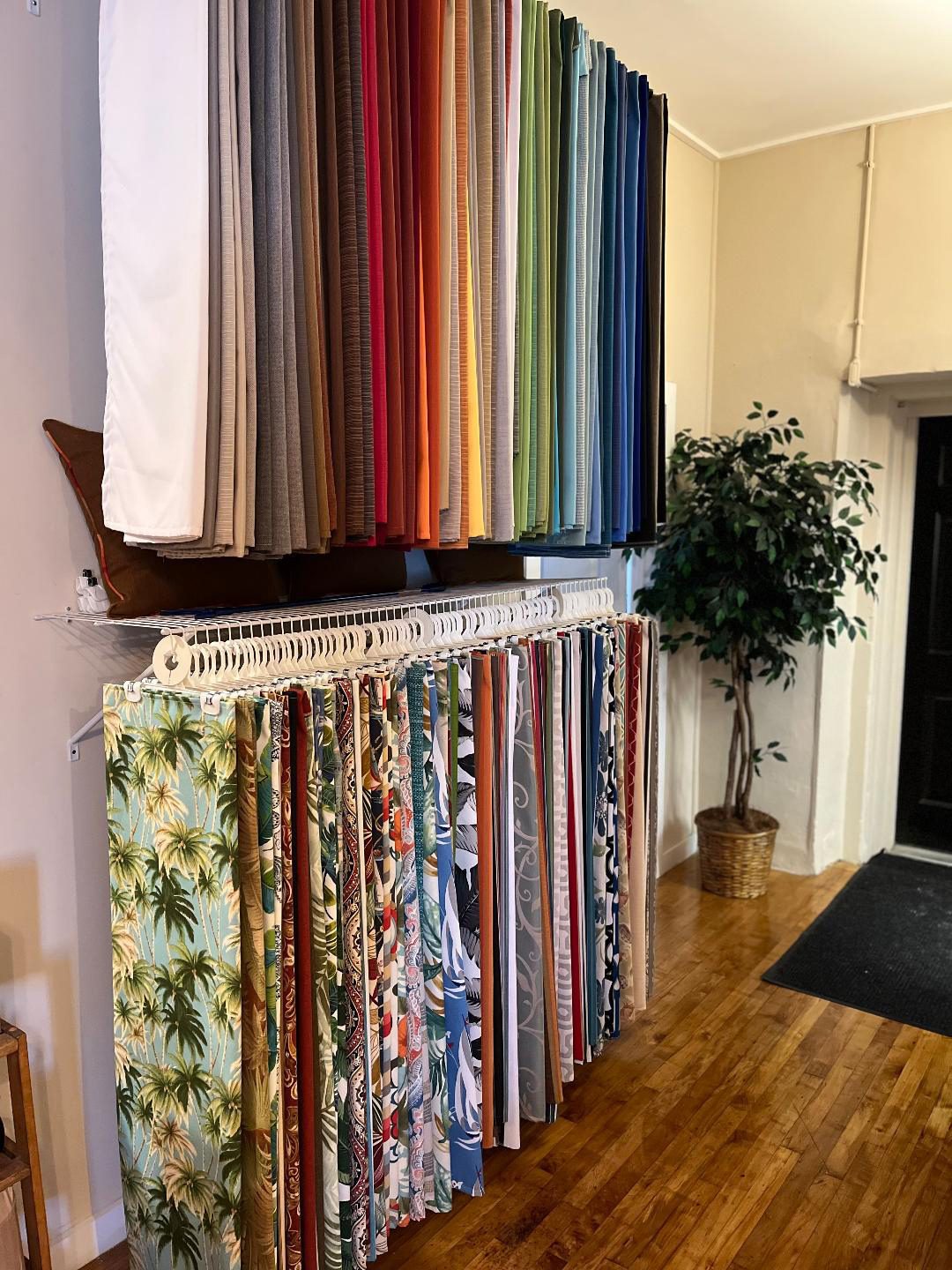 Fabric Gallery
Now you can be absolutely sure you're choosing the perfect fabric for your new cushions and decor–at no cost to you. Select UP TO SIX fabric samples and we'll send them to you for FREE. No shipping. No handling. Just options direct to you. Samples ship USPS in 1-2 business days.
Fabric Samples
We have made every effort to provide fabric images that represent the actual fabric as closely as possible. Due to variations in light, monitor quality, and dye lot variations, we cannot guarantee that the fabric images represent the actual fabric colors. Please order a fabric sample if you're trying to match colors or are concerned with how the final product will look.
Outdoor Cushions & Outdoor Cushion Fabrics
We use outdoor fabrics that repel water, but the cushions are not waterproof. Water can leak through the seams. This makes them suitable for covered areas. For uncovered areas, the cushions should be brought out of the weather, or the furniture should be covered when not in use. This will extend the life of the cushions and the furniture.
Standard-size cushions are made from fiberfill and will dry quickly. If your cushions get soaking wet, place them zipper-side down in a sunny location to drain the water.
Our cushions are available in either spun polyester or solution-dyed acrylic.
Solution-Dyed Acrylic (Sunbrella) Fabrics
Our solution-dyed acrylic fabrics are today's most durable fabrics available for outdoor use. We only use genuine Sunbrella fabrics for our acrylic line. Sunbrella fabrics are solution dyed—meaning the color runs through the fabric (it's not just printed on top). They are rated at over 2,000 UV hours, the top standard in the industry.
Sunbrella fabrics can be used anywhere, even outside in direct sunlight. We highly recommend Sunbrella for heavy-duty use. Sunbrella has a five-year warranty.
Spun Polyester Fabrics
The beauty of a spun poly fabric is the rich colors and patterns that are available. Spun polyester fabrics are pigment printed—meaning the color is on the fabric's surface. They are rated for 500 -1,000 UV hours and are more fade resistant than cotton or blends.
We recommend spun poly fabrics in areas without heavy use and where they will not be exposed to a high level of sunlight. There is no warranty on spun poly fabrics.
Replacement Cushions for Outdoor Furniture?
If you're ready to place that order, we're ready to take it! We think you'll be impressed with the thickness and quality of our cushions and pillows and our wide selection of outdoor cushion fabrics.
It's time to start decorating and making memorable impressions with beautiful, long-lasting replacement cushions for outdoor furniture. Place your order today and have your cushions in just a few weeks.